Red Tails
is pretty darned awful, and that's a crying shame because the story of the 332nd Fighter Group, known as the Tuskegee Airmen, deserves better. Even very good actors, like David Oyelowo (wonderful in
The Paperboy
), are wooden, and the love interest is unnecessary and contrived. It is the first feature film directed by Anthony Hemingway, but it is really the product of its executive producer George Lucas who, according to Stephen Holden's NYT
review
, described the film to Jon Stewart as "Patriotic," "jingoistic," "old-fashioned," "corny" and "inspirational for teenage boys." Nuff said.
If only
Red Tails
had a contemporary character who was in some way channeling historical figures, it could have joined the ranks of what I'm calling "Layer after Layer ...after Layer." Into this category go Madonna's
W.E
., along with Brian Klugman and Lee Sternthal's
The Words
, and that morass of layers written and directed by Lana Wachowski, Tom Tykwer and Andy Wachowski,
Cloud Atlas
. The principle problem with this narrative trope is that the contemporary story always falls dreadfully short of the historical story. Is this a novelistic tic that has infected film through Stephen Daldry's adaptation of Michael Cunningham's
The Hours
, Gilles Paquet-Brenner's adaptation of Tatania de Rosnay's
Sarah's Key
, Wayne Wang's adaptation of Lisa See's
Snow Flower and the Secret Fan
, and the Wachowski-Tykwer adaptation of David Mitchell's novel?
Bored wife Wally obsesses over Wallis Simpson, the commoner for whom King Edward (Get it? W. E.) abdicated the throne of England. Wally believes she is channeling Wallis, especially when she attends the Sotheby's 1998 auction of the Duke and Duchess of Windsor's estate.
W.E.
's narrative structure can't get out of its own way. It trips and falls over its layers, and has more and more trouble getting up.
The second major quarrel I have with the film (setting aside its general vapidity) is that it dredges up the hysterical female (as did last year's
Black Swan
and
A Dangerous Method
and this holiday season's
Anna Karenina
). Observing this phenomenon last year in the
NYT
, Terrence Rafferty put these films into context with their progenitors from
Lady in the Dark
,
The Snake Pit
,
The Three Faces of Eve
to
Marnie
,
Repulsion
,
A Woman Under the Influence
,
The Story of Adele H.
,
Face to Face
to
Frances
and
Mulholland Drive
.
Movies hold up a critical mirror to the tragic fact that, in the narrative ways through which we make movies and the uncritical ways in which we receive them as audiences, sexist stereotypes remain just as entrenched as racist ones.
So while we're on the subject of parallel lives and layering, we might as well take up the aforementioned
The Words
, directed by Brian Klugman and Lee Sternthal. (
The Words
' layers required two directors; the stratum of
Cloud Atlas
required three!) The foundation of the story rests on an historical incident in 1922 when Hadley Richardson, Ernest Hemingway's first wife, lost a suitcase containing some of his manuscripts in a Paris railway station.
The Words
has blocked, contemporary author Rory Jansen -- whose publisher, public and girlfriend are anxious for his second book after his first success -- find a valise in an antique shop. In it is -- you guessed...a manuscript, which will turn out to be, not by Hemingway but by an unnamed Old Man (Jeremy Irons as our only bright light). The film moves into the manuscript's historical story as Rory reads. When he turns down the last page, and after only a brief hesitation, he plagiarizes word for word his brilliant best seller. So we have Rory and his girlfriend, the ghost of Hemingway and Hadley, the couple in the WWII manuscript, and the Old Man and his story. As Robert Ebert
said
, "I doubt if either one of us could pass a quiz on [the] plot. It's a level too many and sidesteps a more promising approach: What if the movie were about the real Ernest Hemingway discovering that his lost manuscript had been found and published by a stranger?" Exactly. (Stephen Holden's NYT
review
)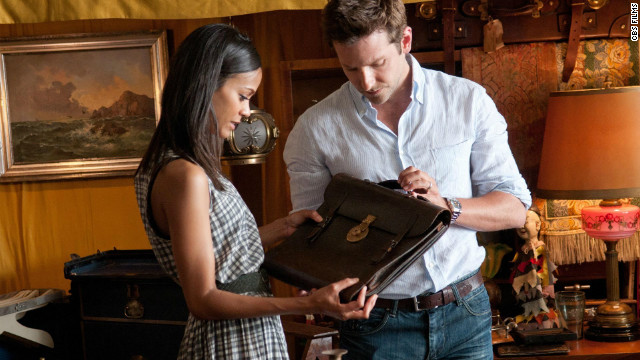 This still sorta says it all...
Curtis Hanson and Michael Apted directed
Chasing Mavericks
, a nice little movie based on the Santa Cruz surfing legend Jay Moriarity. Jay's (Johnny Weston) father has abandoned him and his mother. Having dreamed of the surf seemingly all of his days, Jay longs to follow his bliss and dogs surfer Rick (Frosty) Hensson (Gerard Butler) to coach him. Frosty finally gives in and becomes, naturally, both mentor and surrogate father. The ensuing story is pretty formulaic, but with big waves and impressive surfing spectacles. (Manohla Dargis's NYT
review
)
Unlike Manohla Dargis in the
NYT
, I thoroughly enjoyed Sacha Gervasi's
Hitchcock
based on the book
Alfred Hitchcock and the Making of Psycho
by Stephen Rebello. The film is as much a biopic about
Psycho
as it is about Hitchcock and his wife Alma. Dargis finds the characterization of Hitchcock prurient, but it seemed to me that Anthony Hopkins and Helen Mirren clearly enjoyed playing off of each other and brought intelligence and insight into the dynamic of a complicated yet mutually respectful relationship. The film chronicles the difficulty Hitchcock went through and the risks he and Alma took to get
Psycho
made.
Bill Murray as FDR and Laura Linney as his distant cousin Daisy are pleasant enough in Roger Mitchell's
Hyde Park on Hudson
, but the real stars of the film, the ones who give it sparkle, are Samuel West as Bertie and Olivia Coleman as Elizabeth, the King and Queen of England on the eve of WWII. Where I did not object to a bit of titillation in Hitchcock, I was bothered by it in Hyde Park. I'll use that hackneyed excuse that one should not demean the office of the president. As it is portrayed here, Roosevelt surrounds himself with a bevy of women whom he uses as emotional crutches in parallel to his wooden crutches. The film is redeemed, however, as I say, by the wonderful portrayals of Bertie and Elizabeth by West and Coleman, who have a wonderful onscreen rapport and convey the sense not only of a deeply loving and reciprocal marriage but of a keen friendship far deeper than anything between Roosevelt and any woman in his circle. (Manohla Dargis's NYT
review
)