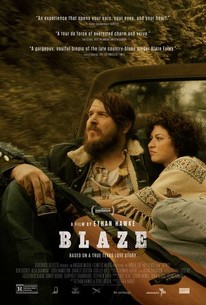 If you have the chance to see Ethan Hawkes' beautiful new film "Blaze" in the theater, make the effort. The story recounts the life of Texas singer/songwriter Blaze Foley, based on his wife Sybil Rosen's memoir "Living in the Woods in a Tree: Remembering Blaze." Blaze (born Michael David Fuller) grew up in San Antonio, Texas, and was a country singer of the Texas outlaw music movement, made familiar by the better-known singer/songwriters Waylon Jennings, Willie Nelson, Johnny Cash, Merle Haggard – and Kris Kristofferson, who features here as Blaze's father, now reduced by age to a shell of his former, abusive self.
Sybil was Blaze's lover, muse, and financial and emotional support, and she is embodied in a profoundly poignant performance by actress Alia Shawkat. Indeed, every performance in "Blaze" quivers with internal light, doubly informed by sadness and joy. (This film makes one despair that the Academy Awards are an exercise in Hollywood brand names, an exercise that will not even consider deeply felt performances like these.) "Blaze," in addition to being driven by the narrative lyricism of Blaze Foley's songs, is a celebration of cinematic poeticism realized by cinematographer Steve Cosens.
"Blaze" weaves its story by circling back on itself, around and around – from past to present to future and back again: in a treehouse with Sybil; on the musicians' friend's ramshackle country porch, where Blaze will die; in the radio studio, where an interviewer (Ethan Hawke) talks with fellow musicians Townes Van Zandt and Zee about Blaze's life; in The Outhouse bar, heavy with the scent of stale beer and cigarette smoke, where Blaze performs for an afternoon before heading back to that porch one last time. The characters are like the singers in a round, and the singers are raconteurs, telling stories of various stripes – tall tale to shaggy dog to testament.
In the interview passages in the radio studio, Townes weaves wild tales (fantastically spun by singer/songwriter Charlie Sexton), which Blaze's long-time friend and associate Zee attempts to temper with corrective interjections. (Zee may be based on singer/songwriter Guy Schwartz – or on an amalgam of other musicians Blaze worked with – and is played with the patience of a long-suffering friend by Josh Hamilton.) The film tells Blaze's story through others' eyes. Townes limns the myth; Zee rights the record; but at its core, "Blaze" is Sybil's deeply personal love story, about which Townes and Zee seem scarcely aware.
This circling back and around is present in other ways in the film. Ben Dickey, who plays the title role, is not a trained actor but a Louisiana-based singer/songwriter. (Though the story is predominately set in Texas, filming primarily took place in East Feliciana, Louisiana.) In the Q&A after San Antonio's opening showing of the film, Dickey and Hawke talked about the centrality of the music to the story. As a non-actor, Dickey explained that he worked into the role through Blaze's songs, learning them all. Hawke observed that "It's like doing Shakespeare. If you say the words right, you'll be good. It's like an incantation. Ben was doing something like the same with Blaze's words and his songs." Hawke went on to emphasize why he wanted to use musicians to play musicians: "because they could smell out the phoniness."
When Sybil and Blaze move to Austin to further Blaze's career, they meet Marsha, Blaze's sister, at their father's nursing home. Kris Kristofferson, as Blaze's father, is a revelation, and, Dickey noted, having Kristofferson on the set was for him "a history lesson." Kristofferson has only two lines: the father asks each visitor in turn, "Got any cigarettes?" Then, after Blaze and Marsha sing one of the gospel songs they grew up performing as The Singing Fuller Family, their father softly rasps, "Beautiful." Alynda Lee Segarra (who formed the Indie rock band Hurray for the Riff Raff in New Orleans in 2007) infuses Marsha with sympathy and a quiet – we sense hard-earned – inner strength. This little interlude, this brief but affecting reunion, tells us volumes about the family dynamic – and ends on a wonderfully, blackly comic twist.
As we meet Blaze's family, so we meet Sybil's Jewish parents, in a, to say the least, awkward visit meant to introduce them to Blaze. In addition to adapting her memoir to the screen with Hawke, Sybil Rosen herself plays her mother in the film. Both Hawke and Dickey could not emphasize enough the value of her presence on the set. "What she wanted," said Dickey, "was for us to take care of the music," and she, as a professional actress, wisely told Dickey, "You don't need to imitate Blaze. You just have to be Blaze."
The film is also graced by the appearance of Steve Zahn, Sam Rockwell, and . . . Richard Linklater (speaking of circling and weaving). They play a trio of wildcatters looking for a way to spend their money, so take a bet on the musicians to record a hit record on the label they've called Zephyr Records. It is not a spoiler in the context of these self-destructive musicians to say it is an opportunity they squander. Yet this is part of philosophy according to myth. The record label cowboys walk into the ballroom where the musicians have drunk the night away and failed to show up at the recording session. Townes mocks their money and their methods. "You drill holes in the ground and hope to get lucky? See all this. These are our experts. We have this down to a science." At one point he tells the radio interviewer, "If you're going to write a song, everyone's going to tell you, you have to live that. That's wrong. You have to die a little."
In their treehouse days – before the road, before Austin, before Chicago, before New York – Sybil, talking about her struggles learning the craft of acting, asks Blaze, "Where do you think confidence comes from?" "I think confidence is the consolation prize for knowing that you're here. Knowing that you're here is kind of a rarity for a human being." And yet, reflecting on where all those songs come from, Blaze wonders, "Maybe from not living up to what I'm supposed to be."
Throughout "Blaze," I couldn't help but think of Tim O'Brien's brilliant Vietnam War novel, "The Things They Carried," particularly the section entitled "How to Tell a True War Story." The narrator explains:
"In a true war story, if there's a moral at all, it's like the thread that makes the cloth. You can't tease it out. You can't extract the meaning without unraveling the deeper meaning. And in the end, really, there's nothing much to say about a true war story, except maybe 'Oh.' True war stories do not generalize. They do not indulge in abstraction or analysis.
"For example: War is hell. As a moral declaration the old truism seems perfectly true, and yet because it abstracts, because it generalizes, I can't believe it with my stomach. Nothing turns inside.
"It comes down to gut instinct. A true war story, if truly told, makes the stomach believe."
Throughout all of their stories, Blaze and Sybil and Townes and Zee all understand that the stomach has to believe. Theirs (Blaze and Sybil's, Blaze and Zee's, Blaze and Townes's) are love stories and, in their own way, war stories – war stories in which the battles are with inner demons, between that shining confidence Blaze intuits and its lack. Circling back to the radio interview again and again, Townes, the fabulist, tells one more outrageous fish story than the last, while Zee, the realist, looks on with growing exasperation. Remarking on the human fact of multiple points of view (think the three blind men and the elephant, or Orson Welles's "Citizen Kane"), Hawke noted, "Zee is interested in the truth, and Townes is interested in the legend. They're both true." As Blaze tells Sybil, "I don't want to be a star. I wants to be a legend." "What's the difference?" she asks. "Stars burn up. A legend lasts forever." One might say, a legend evolves from gut instinct and it can't be unraveled.
"Blaze" had a limited release in August, and an expanded release in September. DVD, Blu-ray and streaming dates are TBA.